We had a first chase race with SpeedBeagle hosting it and came up with the grid was fantastic being based on having the one bad race and could you recover from that. Sticking with that we had the reverse grid and for some it hurt big time in points and cost someone a win.
I think we had only one race winner from season who didn't take the checker flag and with the reveres grid it was likey we would again and we did. Elliott Sadler came across the line in 8th place giving CR Racing back to back wins and a nice start to the chase.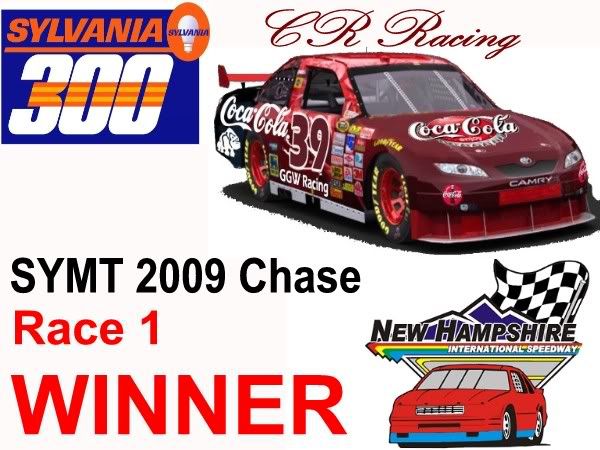 Now on the other hand of this was if we kept it the same grid as normal he would have only gained three more places by having Kyle Busch 155 points instead of 142 with Sadler. Tezgm99 got hurt in points if he had Montoya 175 in points to endding up with 36 points. Photogr missed out on a win plus 190 in points to endding up with 46 points. Klvalus would have had Bobby Labonte who did all right with 102 points instead of her getting 34 just to name a few that where at both ends of the grid.
The first points standing is what you got in this race plus those who had bonus points so they differ from above points stated. Plus I came up with a fun thing to add to this chase is I team us up as we fell in order from the race results as the BLUE TEAM and the RED TEAM. You have team mates now and if you would like to help out a team mate by giving some of your points you may during the week BEFORE THE NEXT RACE.
Yes each driver wants to win the championship but can he do so and help his team win the team chase as well. Here is how it stands now.
Now on the next one I gave 5 points to Klvalus from my score to help her out. My score has drop and I should be 5th and is a typo in the grid. If you want to help out a team mate or all that is up to you and leave it in a comment as to who and how many points. Friday afternoon around 7:00 my time to give everyone a chance to help out team mates & I will reset the grid for that race on who got any points.
Next week grid for Tsfanpc will be normal from pole to 14th,, the following week on my week it's reveres again and then back to normal and so on. Gunaquat said he would do one race and others can if they want as well. This is a 4 week chase unless anyone else wants to host a race and can be on anything about a chase driver or chase race track.
Thats its,, Let's go chase racing !!!
Cheerssss