Well we had another great All Star Race and are winner to pick up 10 bonus points tords the chase is CR Racing, Congrads to CR Racing.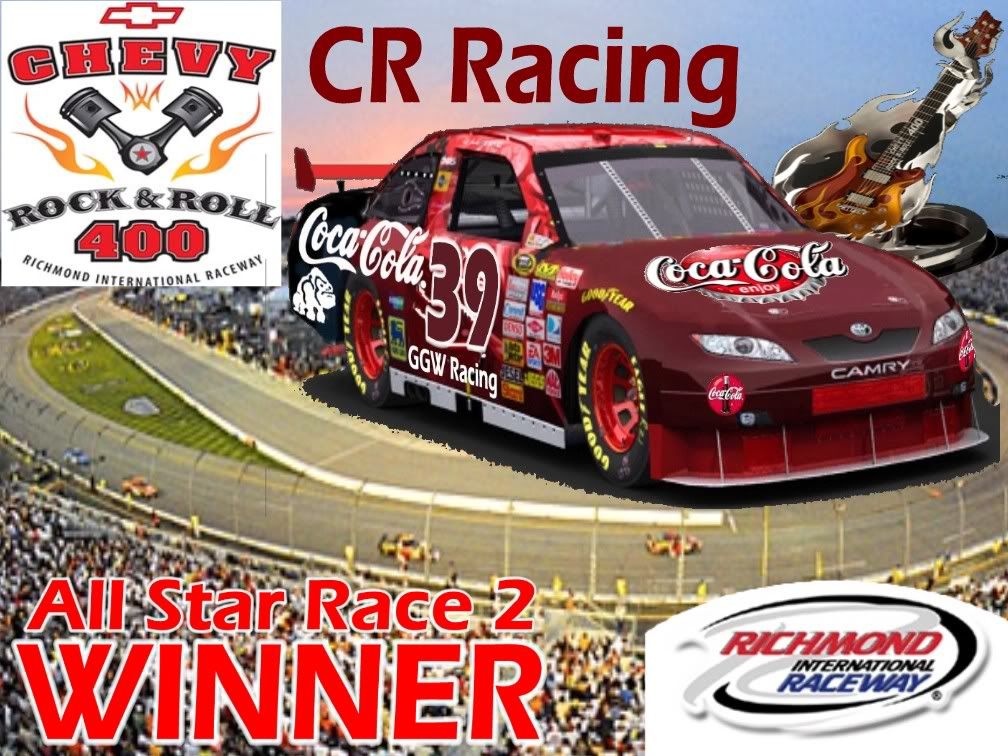 This is who said they wanted to be in and if anyone wants in then hurry up and get your name posted in the comment section and you will be added in. Season wins are 10 points and championship is another 10.
This is how we stand to start the chase.
1. Tezgm99 with 30 = points for 2 wins plus season champion
2. Storkjrc with 30 = points 3 wins.
3. Forensic2 with 20 - points 2wins
4. Speedbeagle with 10 = 1 win, + higher finish
5. Klvalus with 10 = 1 win
6. CR Racing with 10 = 1 win
7. Aero13 with 0 = finish higher.
8. Tsfanpc with 0 = as above
9. Hanahan with 0 = as above
10. HotfootLori with 0 = as above
11. Volfan69 with 0 = lowest seed.
Now some might think it is a good thing being on top but Speedbeagle has some thing to say about that as she will be hosting the first race and doing the grid for this race.
The following weeks host will be Tsfanpc and I will be doing one after that and if anyone wants to host a race that will be fine. Host a race can be on another driver like during the season or on a championship winning driver as well. Just let me know if you want to host a race and I will fill you in to what week.
Cheers to all and lets go chase racing even if most of us don't like it. lol