We had a few cars show the could lead for a while but Kurt Busch showed his car could lead the most and hold off Brian Vickers. We had a few spins and the big deal with a tire getting away from Marcos Ambrose pit box and rolling half way tords the flag stand with out the yellow being brought out. Infact the crew member was on his way back when they brought out the yellow.
So I will strat with that. On the frames we will have to use Brian Vickers as a time frame for this and use Jeff Burton & Montoya's pit stop to see how long this tire rolled. What I found was during Brian Vickers Pit stop is when the tire got loose & his crew got him out and on his way. He had one of the first pit stalls. In the frame of Brians pit stop you see Jeff Burton pass and Montoya follows behind Jeff Burton. Vickers pulls out of pit stall and gets in line behind Montoya.
.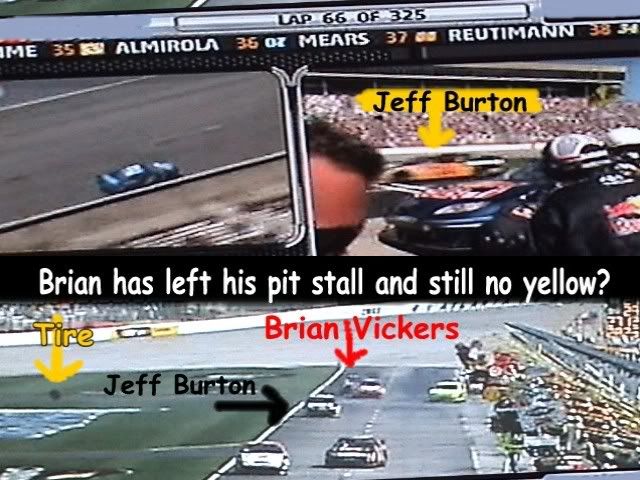 Now what was the flag man waiting for when the tire is half way and rolling tords cars racing under green. The grass is out of bounds for crew so was the tire going to just stick it in reverse and roll back up to the pit stall? The next frame set is when the crew member starts to go after the tire and you will see Jeff and Montoya hit their pit boxs.
You tell me NASCAR was going to let the tire stay if it happen to stop rolling and fall over? He is off to the races to rescue that tire from being scared and all alone. Jeff Burton and Montoya hit their pit boxes. Plus why in Sam Hill is there not a catch wall to stop a tire from rolling into a no go zone in the first place. Plus it will keep pit crews safer from a car lossing control in the grass heading tords them. They are just as much at risk if not more while doing a pit stop with the cars going by them with in inches. The guys in the booth getting so excited saying he was 50 feet away from the racing surface. Try inches while in the pits.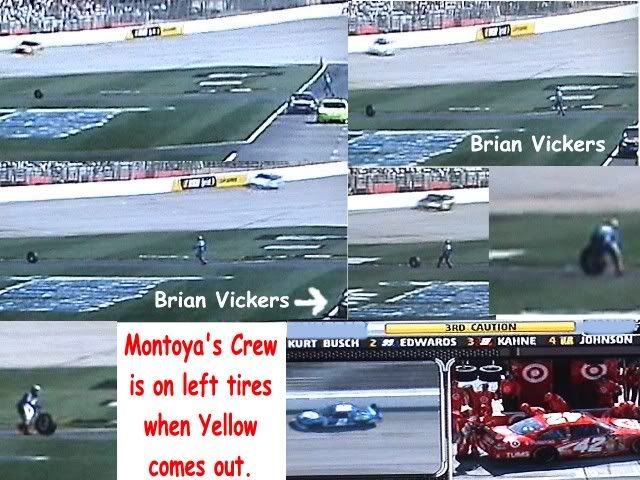 It must be around 10 second or so for the time it took him to go out and get the tire plus the hole time it was rolling from Brian Vickers stop as well. The next set is them showing the yellow flag at the stands and the frames are as they come on TV as well. The first one you see how far he has gotten back to pit lane with the tire. The other was me having fun drawing the line of how far he had gone and was on his way back when the yellow came out.lol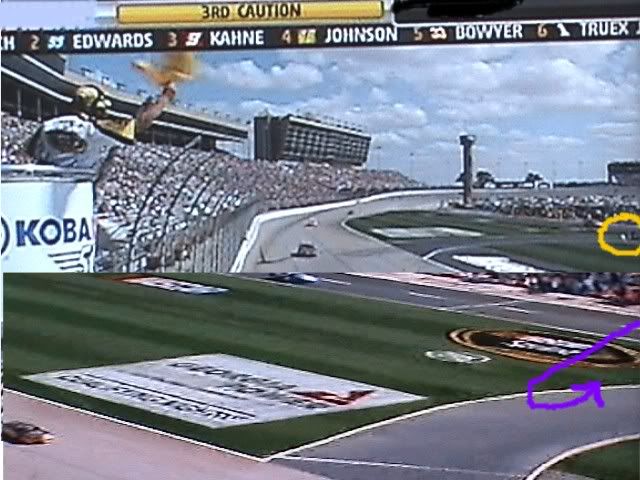 Now all NASCAR teams payattention! Now I have come up with a new way for Dale Jr's tire changers to tell if they got all the lugs tight is have the new longer studs color coeded and then they can tell at a very quick once over. The way they are now with all black stud is hard to tell.
Next up is and I was waiting for when Office depot was going to come across the Home deput and we got to see it and the frames are as it happen. I think Joey did a great job not to reck worse after getting pushed. I didn't get to hear any post race interviews if anything was said. If so let me know what was said. Thanks.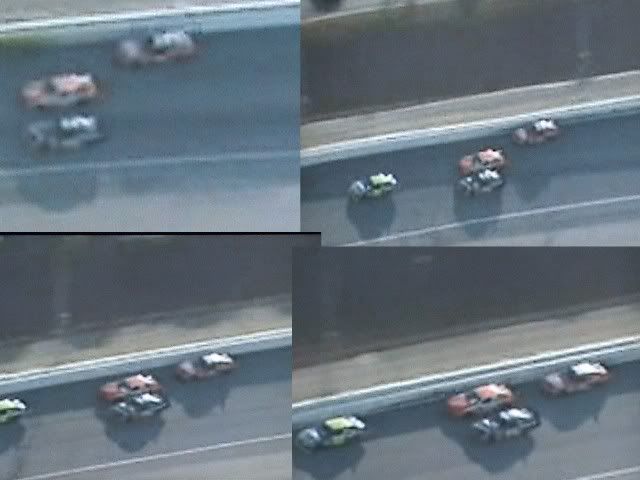 Now Tony had a run and had to let up.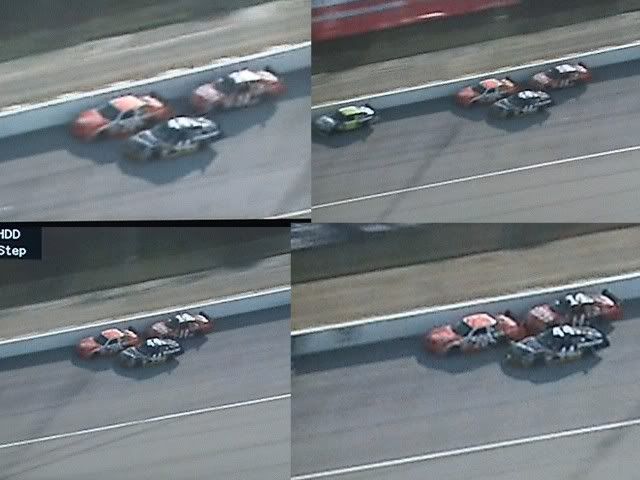 Now the bump and no run till he hits the wall for a second time later in the turn ahead.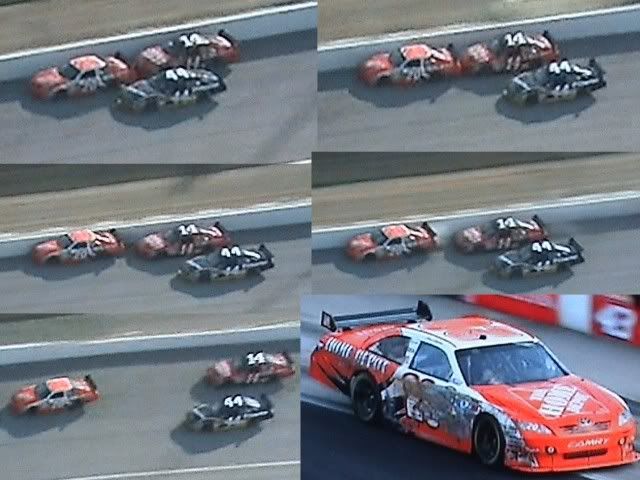 Well thats it for this weeks frame by frame and what I wanted to show but if you wanted to see something else has well or check something for you about the race then just, Ask_Forensic2 and I will look over the video and try to help out in showing something for you.
Thanks.